1. Workshops & Seminars
Lecture of Interprofessional care for the elederly in Udayana University in Bali, Indonesia (June 24. 2019)
Assistant Professor, Dr. Onishi had a lecture of interprofessional care for the elderly as a faculty development in Udayana University, Bali, Indonesia. Indonesia has only 6% of aged population (in Japan 28%!). Since the percent of the aged in Bali island is the 4th highest areas in this country, they showed an interest in this topic.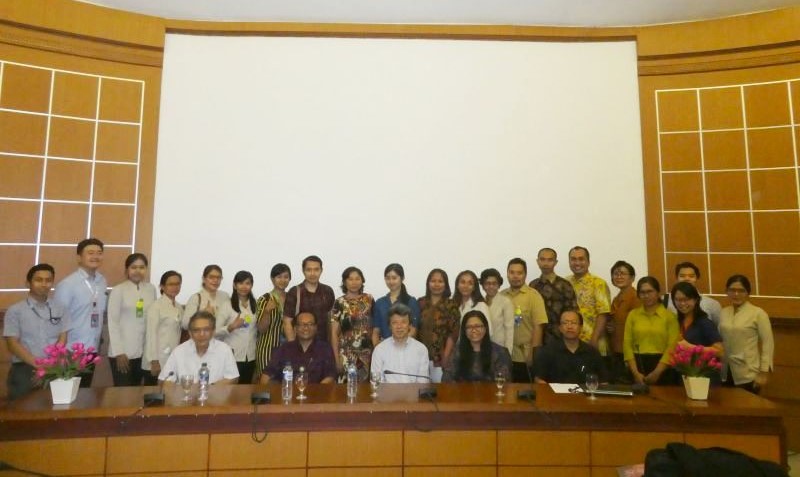 He has also held a VBP workshop. This uses simulated interprofessional conference so all the materials were translated into English. Most of the participants said the workshop was difficult to simulate due to their lack of several professionals in the university, such as occupational therapists or social workers. He had a reflection that "I should have done more information gathering beforehand. Anyway both thought that collaboration between us will be important to expand the diversity of the aged care."
We will continue to keep our relationship in different activities with Udayana University.
2. Coordination with the International Organization
(1)WHO Fellow Training Program (Vietnam)
From 9th to 20th January 2006, 10 fellow members from the Ministry of Health of Vietnam visited Japan to learn about human resource cultivation in medicine and healthcare. On 12th January, we gave a lecture on medical education in Japan, hold a discussion on how to improve the medical education, and coordinated a visit to University Hospital
(2)WHO Fellow Training Program (China)
From 20 to 25 October 2008, 4 fellow members from China visited Japan to learn about distant learning system for medical education in remote area. We provided a lecture on distant learning, its information technology, and evaluation techniques.
3. MEXT Projects
(1)International Cooperation Initiative hub 2006
From 11th -16th February 2007, we have visited Indonesia to analyze the current situation of healthcare and medical education in Indonesia, and discussed with the relevant authorities in view of improving regional health care promotion. 
(2)New Century International Educational Exchange Project
Through this project, we have received the Prof. Obaidullah Obaid, Principal of Kabul Medical University from 25 February to 4 March 2006.
4. Funded from UOT
(1)Oversea Academic Exchange Hub 
Afghanistan(September 2005 to March 2008):JPY12 millions
We have set up the University of Tokyo Medical Education Collaborative Research Center in Kabul Medical University. This Center worked closely with JICA Medical Education Project.   
Laos(July 2009 to March 2010):JPY 2 millions
We have set up the University of Tokyo Medical Education Collaborative Research Center in Medical Science University. 
(2)Education Research (April 2007 ~March 2010):JPY 3,060 millions
We have received the fund for promoting international cooperation projects on medical education  in such countries as Laos and Indonesia.